Gear
The Ever-Growing Gear List:
Of course you'll find all the Mammoth Cave Audio cutom shop line of gear, but you'll also find: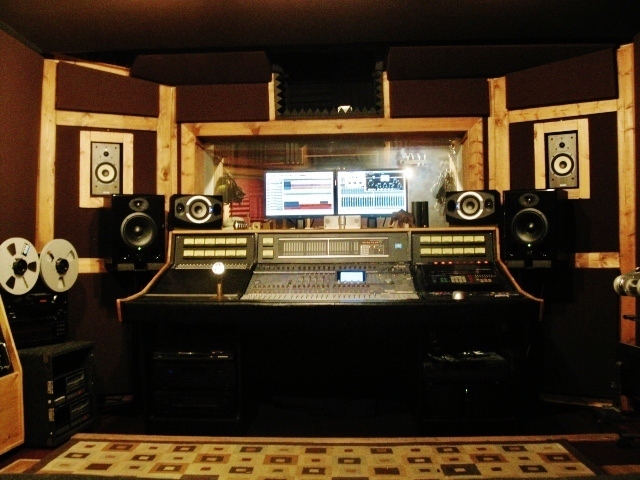 The Console
We recently swapped out our hybrid console in favor of a new Midas console linked up to 32 channels in/out of pristine A/D/A. 32 channels of built in pre's that are very clean & colorless, and are a perfect compliment to the racks of flavored tube and transformer based pre's.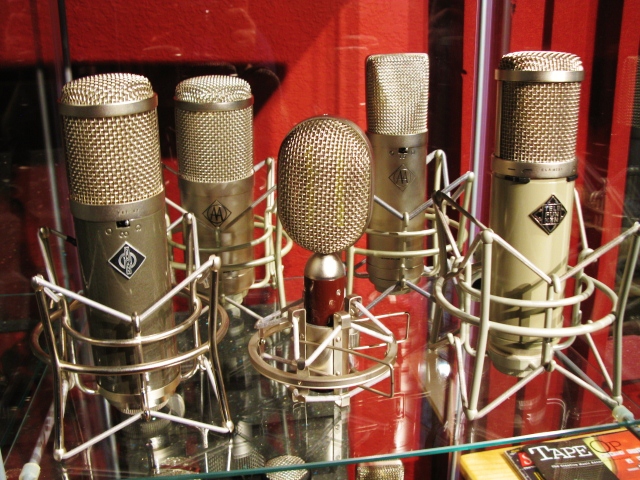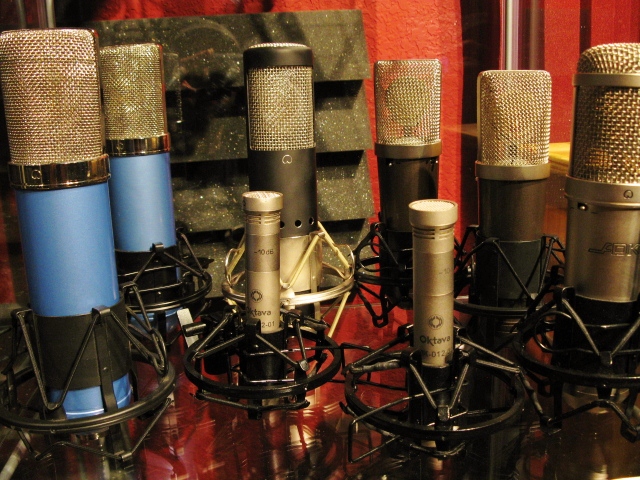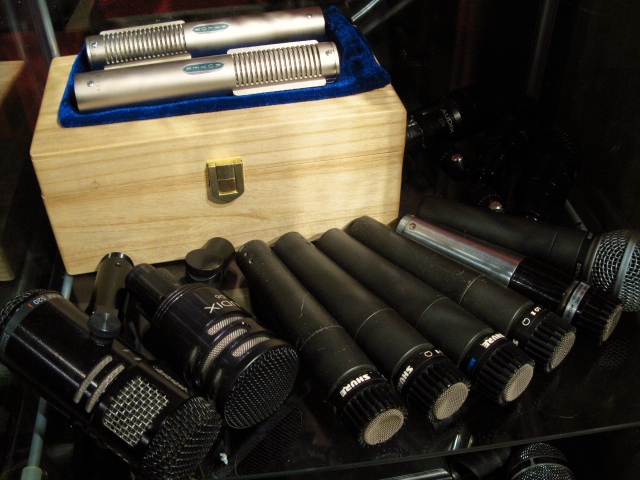 Mics
Soundelux IFET7 (U87/47)
Telefunken ELAM 251 (custom built)
Neumann fet47
Neumann TLM-103
Advnaced Audio CM47 tube
Advanved Audio CM87se
Groove Tubes MD1B
Royer R-121 (x2-matched pair)
ADK Vienna MK8
Oktava MK-012 (x2 matched)
MXL 2003a w/ MJ mod(x2-matched)
Nady RM-5 ribbon
Electro-Voice 635A omni
Electro-Voice RE-16
Studio Projects B-1(x2-matched)
MXL M-3 (x2~matched pair)
Electro-Voice vintage model 901
K&K custom HiHat mic w/preamp
Peavey 520i
Audix i-5
Audix D-6
Audix D-4
Audix D-2 (x2)
Shure SM-57 (x4)
Shure SM-58
Shure unidyne III




Radial J48 active Direct Box
Radial JDI passive DI w/ Jenson transformer
SansAmp Bass Driver DI
various other DI's and Re-amps
Preamps/Compressors/EQ's
Vintech dual 1272 (Neve 1272 style - 2 channels total)
Neve 1073 custom built/racked (single channel)
(x2) API 550b EQ's
(x2)Golden Age PRE-73 (Neve clones- 2 channels)
Groove Tubes SuPRE (2 channel tube/transformer based pre)
Chameleon Labs 7720 stereo compressor (SSL bus comp)
Avalon VT-737 (tube pre but very clean/uncolored)
DBX 166 over easy compressor(vintage sought after dual 160 version)
(x2)Bellari RP220 dual channel tube pre's (w/ tube & op-amp mods)
FMR PBC6A
FMR RNLA (stereo comp/leveling amplifier)
6 channels of modded vintage Aphex compressors
Art MPA (with mullard tube mod)
Art MPA Gold (with Tung-Sol mod)
Art Pro VLA II compressor (w/ upgraded Tesla tubes)
T-1953 Tube pre's (x3 6 channels total)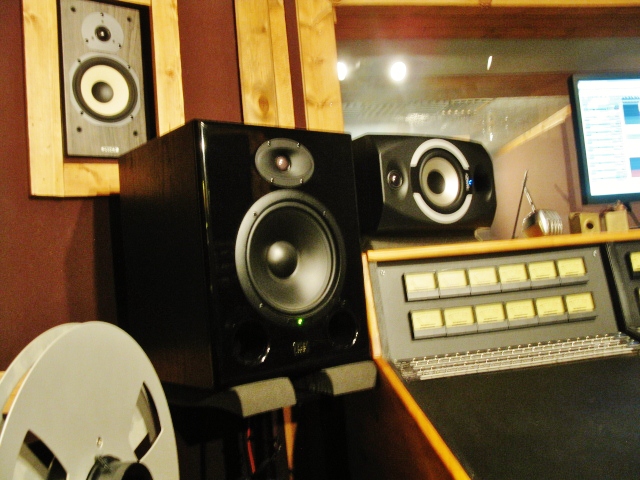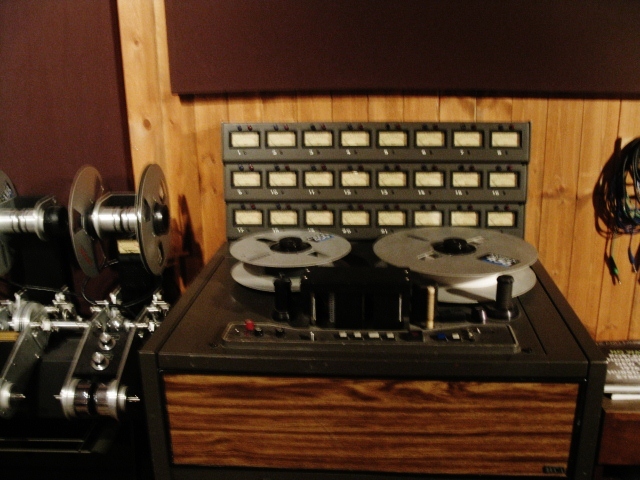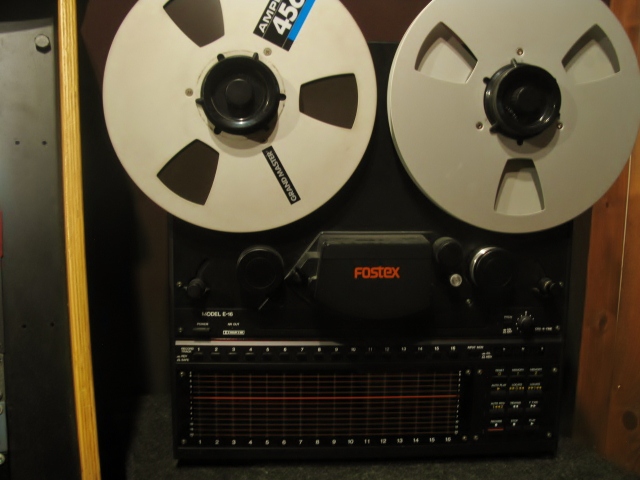 Main Monitors
A) Event - ASP-8
B) Tannoy - Mercury MX2
C) Tannoy - 501A
a variety of other speakers for real-world referencing
Formats/DAW's/Recorders
SONAR
ProTools
Steinberg WaveLab (for mastering)
MCI JH24 24-track 2" tape
Fostex E16 16-track 1/2" tape
1/4" Panasonic mastering deck
Alesis ADAT's (x3 = 24 channels)
Panasonc SV3700 DAT

The studio's powerhouse DAW system can record up to 32 tracks at once!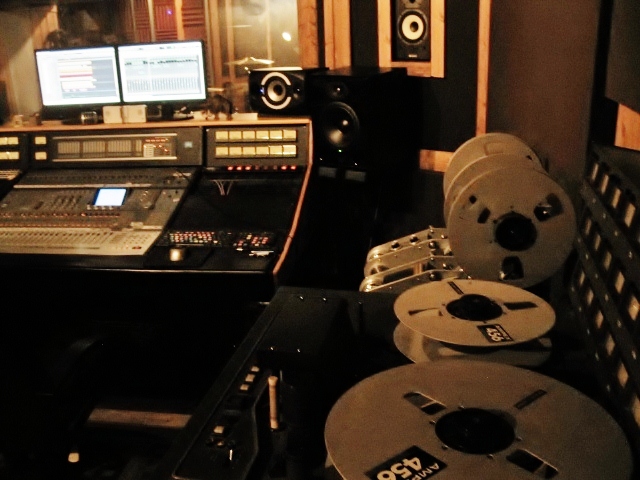 Headphone monitoring system for tracking. w/ ZERO latency:
Oz audio headphone matrix amp - during live tracking sessions, this allows every member of the band to have there own personal "more me" mix. A good headphone mix is crucial to a good take. With the capability to let every band member have there own custom tailored mix, no one will have to sacrifice what they want for what everyone else wants. The drummer needs more bass but the guitar player needs more of himself and the Bass player wants no guitars and all drums? NO PROBLEM. And all with absolute ZERO latency monitoring.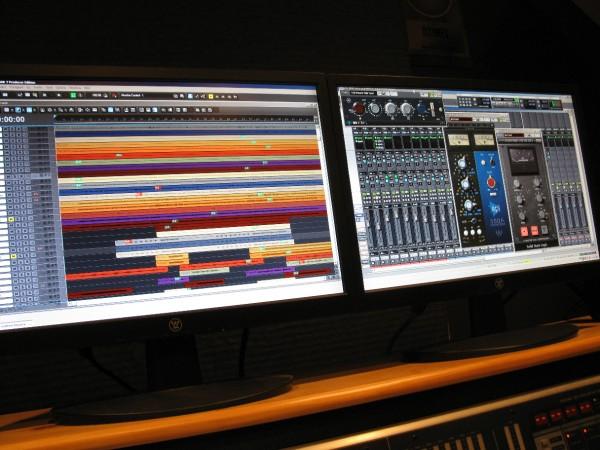 The Ridiculous Plug-in collection:
Currently there are THREE!, yes three, UAD cards installed in the computer with pretty much every plugin they offer. Not to mention all the favorites from: Slate, Softube, Waves, URS, Abbey Road, PSP, and tons more.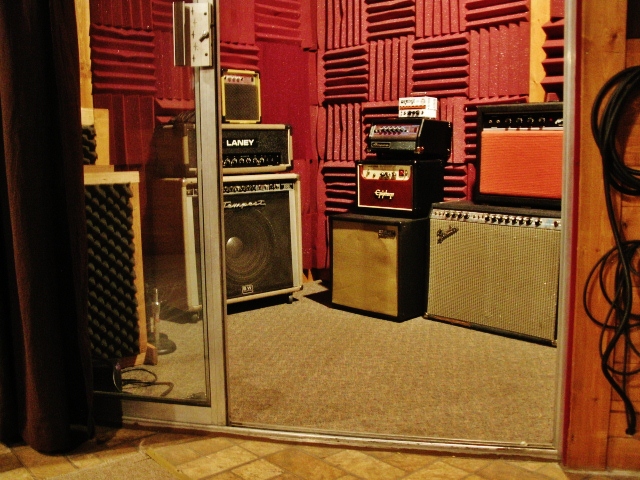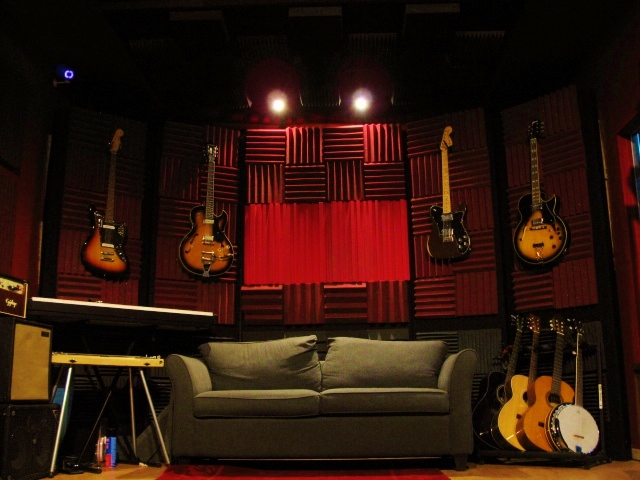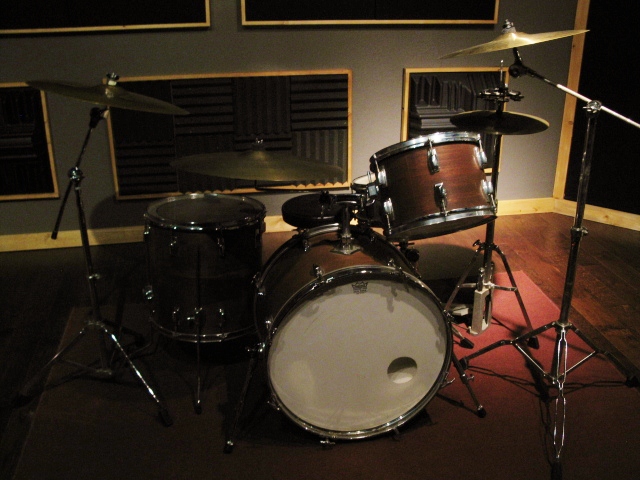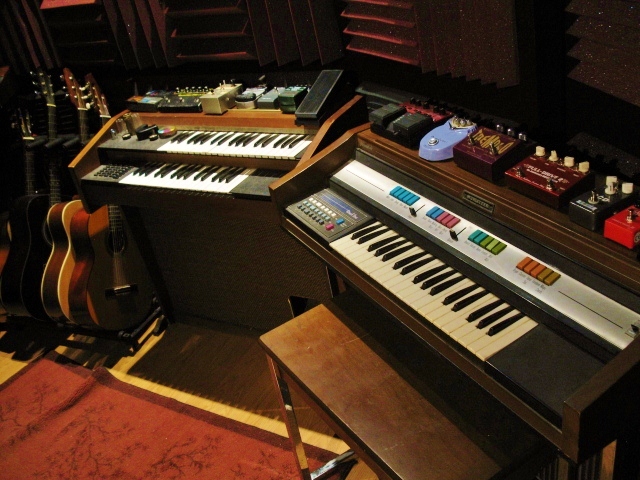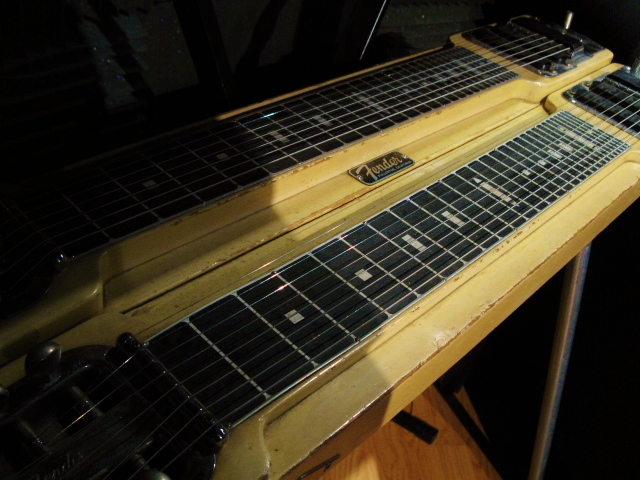 Instruments & Amps etc.
The studio is home to a fine assortment of new and vintage gear available for use.
GUITARS & STRINGED INSTRUMENTS
Guild/DeArmond Starfire II
Fender 72' RI Deluxe Tele
Fender Jaguar Baritone Custom
Fender Jaguar Bass w/ P & J pickups
12-string Electric Stratocaster (late 70's with new mods)
Fender mid 70's Mustang
Fender Jazz Bass (early 90's mexi)
ES-175 Gibson lawsuit full hollow body (w/ mods)
Yamaha nylon string
Fender acoustic
Yamaha Acoustic
Fender 1957 dual neck lap-steel (10 strings each neck)
Harmony 1960's Marquise acoustic slide guitar
12 string 80's strat clone
Danville 5 string banjo w/ pickup
vintage mandolin
vintage auto-harp



AMPS
1974 Fender Twin Reverb
Epiphone Valve JR. with too many mods to list
Ampeg SVT micro head (200watt mini SVT- amazing recording tones)
ORANGE MicroTerror (tiny head, huge tones in tracking)
1x12 custom cab with Weber sig series speaker (vintage Jensen clone)
Mid 70's Harmony solid state/ (has more mojo than most tube amps!)
Fender champ ri.
Laney Pro Linebacker Bass head (80's)
Fender 1968 Bassman 2X15 cab
Acme "Low B" 2X10 bass cab w/ horn
"the Tempest" vintage solid state w/ 15" BW
Kona mini tweed
PEDALS
a large assortment of new and vintage pedals from Fulltone, MXR, Earthquaker Devices, Boss and much more
DRUMS/PERCUSSION
house kit is a late 70's Ludwig
several snares. (Acrolite, Gretsch, etc)
assortment of cymbals, including my favorite ride ever
tons of aux percussion. Tambourines, bells, shakers etc.
PIANO/ORGAN/KEYBOARDS
1943 Baldwin Acrosonic Piano
Yamaha P-120 electric piano (can also be used for midi control)
Roland Juno
Hammond M3 (the "baby B3")
Wurlitzer vintage sprite organ
60's SILVERTONE electric chord organ. tube amplified. very nice.
an ever growing crappy 80's synth collection. you can never have too many and besides, no studio is complete without an SK-1
several 70's/80's bontempi/magnus chord organs